Virtual classes are BACK
Let's not lose motivation this year when it comes to staying fit and healthy! 
As we face a third lockdown, the Malvern Active class instructors are back streaming through the MyWellness app to help all who wish to stick their new year resolutions. Gain access to all our LIVE and on-demand classes for only £15.99! You can also now stream to ANY device with ease using our step-by-step guide.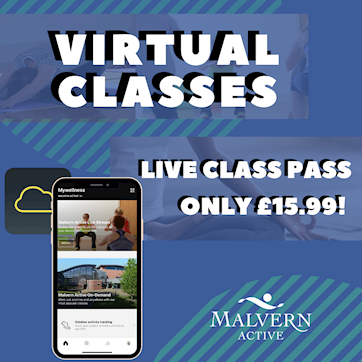 How to subscribe:
How to subscribe:
Step one

: Download and launch the MyWellness app on your tablet or mobile.
Step two:

 Launch the app and select Malvern Active from the "find a facility" dropdown on the home page.
Step three
: Click on a live class or on-demand class option. (You will gain access to both services after payment)
Step four: 
Click "BUY" to start

 the monthly £15.99 subscription via Apple/Google Pay or by entering your card details. (This will start immediately and you can cancel at any time)
Step five
: Enjoy our LIVE classes and on-demand sessions!
Purchase here for Android
Purchase here for Apple
Share: