Malvern Active Squash Team On Tour
Malvern Active Squash Team started the new year by entering the Exeter Golf & Country Club graded squash tournament on 11th January 2020.
This tournament attracted amateur players from all over the country competing at varying standards graded A-E and ran alongside a Professional Squash Association ranking event which was eventually won by Professional Miles Jenkins ranked 169th in the world.
Gareth Oliver, Anthony Arnold, Jez Clarke & Oliver Parker represented Malvern Active entering grades B-E respectively.
Although all players competed well in some entertaining fixtures the Malvern side returned mixed results. The highlight being Oliver Parker who reached the final of the E category although lost out 3-2 in the best of 5 fixture after a gallant fightback from being 2-0 down.
Malvern Active will look for an improved return next year.
Malvern Active compete locally in the Worcestershire Squash leagues. At the halfway stage of the season the 1st team sit second in Division 2 whilst the second team are midtable in Division 3.
Picture below shows Oliver Parker (left) on the way to the Final of the Exeter open E Grade Final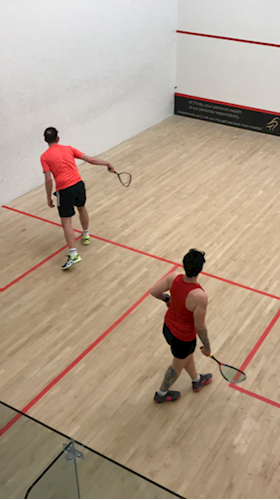 Share: