Sarah is a REPs level III Personal trainer, having gained her fitness qualifications through the YMCA.
Sarah Shaw (BSc Hons) is a fitness instructor here at Malvern Active and also teaches our Spinning classes, Lean and Mean, and Tone & Flex.
Sarah was a county and territorial level lacrosse player until a cruciate ligament injury ended her lacrosse career, when she took up cross country running.
She has competed in 10km runs and half marathons, as well as several mountain marathons, cycled end to end both the Pyrenees and the Icefields Parkway in Canada, and is able to advise you on all aspects of running, cycling and endurance events and racing.
She is also qualified in weight management and can advise you on healthy eating and diet, and if you want some DIY housebuilding advice along with your fitness instruction, Sarah is the one!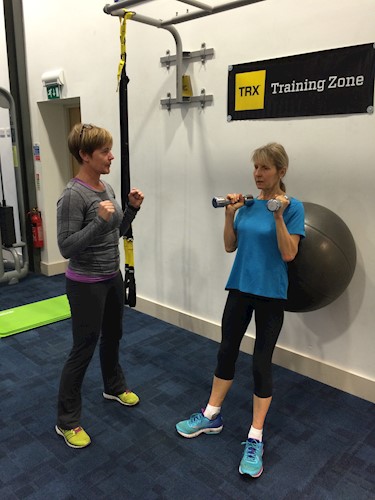 ---
Since starting Personal Training with Sarah in February 2012, I have had great results in reducing my Plasma Glucose levels, having been told by my GP that I was borderline Diabetic. My Plasma Glucose in Feb 2011 was 6.8. Today - 30 May 2012 it is 6.4, which I am told is normal. I feel this is a real result. I am over the moon!
On the advice of a friend, I engaged Sarah as my personal trainer in May 2012. My objectives were to get fit for a 3 day Coast to Coast cycle ride and to improve my flexibility. Sarah's training methods are based on heart rate management and, given how fit I felt after completing the Coast to Coast ride, I can confirm her methods are extremely effective. Add to that Sarah's irrepressible, upbeat character and I would, without hesitation, recommend her to anyone who wants focused help on achieving their fitness objectives.
Sarah, thank you very, very much for your energetic and fun lessons - we are seriously hooked!